Rent A Car in Lahore | Rafay Car Rental
Rafay Rent a Car in Lahore is starting his journey as Car Rental Agency in Lahore Pakistan from January 2010. People have been using car hire services for many years to facilitate their journey or travelling for corporate business events, business trips, Hotel pick and drop, Airport pick and drop, Wedding events, Picnic Events, Out of city travelling etc. We are on the vision "When you are ready we are Ready". We are on the mission to facilitate the educated community with a different kind of services where they feel more comfortable and relax while travelling with us for their all kind of transportation need. Being a Cheap and affordable Rent a car in Lahore Company we will try our level best to serve in a better way you had ever experienced with others. Our Lahore Rent a car rates will be cheap and lower than other but Rental services will be at top notch or the industry.
Our Fleet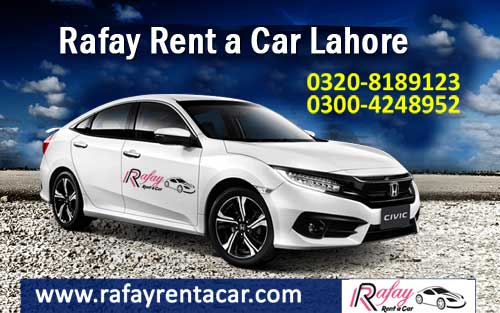 In what Circumstances we need a Car on Rent?
It's very hard to say when someone needs a car on rent in Lahore? Let me explain a simple and easy way, whenever a car has been hired? There are two types of people one those have already a car/vehicle and second, those don't own a car. people having a car/MPV/SUV usually have to perform many tasks where they need a car? But they can use their own car for this purpose to manage their daily needs job e.g. school pick and drop for their children and another traveling need every day. Even when they need to go somewhere outside from their daily routine traveling, then they need an additional car to perform that travel activity like airport pick and drop, outstation traveling, business trip, village trip or to attend a wedding outstation. In these situations, people like to hire a car without a driver, depends on their number of passengers and luggage. Mostly people like to hire a car in Lahore with a driver facility, because during the traveling within the city or out of the city if there is any problem with the car that causes any damage of the body or any mechanical part physically, Passenger will not be responsible for that damage. He has only to pay his rent and fuel + tool taxes, nothing else is his responsibility, all the losses will be born by the rent a car company in Lahore. In the meanwhile, if anyone will hire the car rental services on self-drive without a driver, and unfortunately, he had an accident and car caused some damages in the car's body or any mechanical parts. Then all the damages will be born by the client who hired the car on his/her self responsibility to fulfill all the damages to repair the car from the Company showroom by using the original parts and equipment. Normally, all rental car companies giving their cars with drivers in Lahore. because they are fed up by the process to recover the car damages from the customer, the reason behind is our legal system that usually plays in the hand of powerful men/women having their links in the bureaucracy or other govt officials. in these cases, a car rental company can never recover their car damages from the customer. So it's better for both car rental companies and customers to use the service with driver instead without driver. 
Cheap rent a Car Services Company in Lahore
Rafay Car Rental Service in Model Town Lahore Pakistan is a 1 stop shop car rental solution for persons and families looking for a car hiring company with driver for their various needs e.g. airport pick and drop, Airport to/from Hotel drop, market shopping services, corporate events, wedding ceremonies, trips within Lahore city etc. Our drivers /chauffeurs are familiar better with all roads and have enough knowledge for routes and areas network of Lahore e.g. Model Town, Johar Town, Mustafa Town, Wapda Town, Bahria Town, Garden Town, Barket Market, Faisal Town, Iqbal Town, Thokkar, Railway Station, Samanabad, Icchhra, Mazong, Peco Road, Link Road Model Town, Township, Green Town, College Road, Nishtar Colony, Pak Arab, Punjab Society, PIA Society, State Life Society, DHA Phase 1, 2, 3, 4, 5, 6, 7, 8, 9, Bhatta Chawk, Mall Road, Anarkali, Ring Road, Hall Road, Chuburgy, Davis Road, Shami Road, Fortress, Jail Road, Gulberg, Airport Area, Ferozpur Road, Qainchi, Chungi, Ghazi Road, Central Park, Walton Road, Cavilary Ground, MM Alam Road, Liberty, Cantt etc. etc.
Why Choose us Rafay Car Rental?
We strongly believe on our vision "When you are Ready, We are Ready". Rafay car rental agency in Lahore has decided to serve our customers/clients at cheap car rental rates with professional services they had ever experienced in Lahore. Families will feel a difference while travelling with out drivers/chauffeurs same as they are on the road with their personal drivers in our private cars, We have highly trained our drivers to serve our car rental customers in a more effiecient, confortable, reliable and educated envoirnment ethically. We will offer membership cards for regular customers for special discounts and vouchers for their future plans of travelling with our transportation services.
Our Rent a Car Fleet is available in the following areas of Lahore
Rafay Rent a Car Services Company in Model Town Lahore
Rafay Rent a Car Services Company in Kareem Block Town Lahore
Rafay Rent a Car Services Company in Wapda Town Town Lahore
Rafay Rent a Car Services Company in Faisal Town Lahore
Rafay Rent a Car Services Company in Mustafa Town Lahore
Rafay Rent a Car Services Company in Johar Town Lahore
Rafay Rent a Car Services Company in Canal View Lahore
Rafay Rent a Car Services Company in Valancia Town Lahore
Rafay Rent a Car Services Company in Bahria Town Lahore
Rafay Rent a Car Services Company in Green Town Lahore
Rafay Rent a Car Services Company in Township Lahore
Rafay Rent a Car Services Company in Bahria Town Lahore
Rafay Rent a Car Services Company in PIA Society Lahore
Rafay Rent a Car Services Company in Garden Town Lahore
Rafay Rent a Car Services Company in Barkat Market Lahore
Rafay Rent a Car Services Company in Lahore
Rafay Rent a Car Services Company in Ferozpur Road Lahore
Rafay Rent a Car Services Company in Jail Road Lahore
Rafay Rent a Car Services Company in Gulberg Lahore
Rafay Rent a Car Services Company in Mall Road Lahore
Rafay Rent a Car Services Company in Mughalpura Lahore
Rafay Rent a Car Services Company in Saddar Lahore
Rafay Rent a Car Services Company in Shadbagh Lahore
Rafay Rent a Car Services Company in Harbanspura Lahore
Rafay Rent a Car Services Company in Railway Station Lahore
Rafay Rent a Car Services Company in Iqbal Town Lahore
Rafay Rent a Car Services Company in Samanabad Lahore
Rafay Rent a Car Services Company in Islam Pura Lahore
Rafay Rent a Car Services Company in Chubergi Lahore
Rafay Rent a Car Services Company in Sandah Lahore
Rafay Rent a Car Services Company in University Road Lahore
Rafay Rent a Car Services Company in Wafaqi Colony Lahore
Rafay Rent a Car Services Company in Cantt Lahore
Rafay Rent a Car Services Company in Badiyan Road Lahore
Rafay Rent a Car Services Company in DHA Lahore
Rafay Rent a Car Services Company in Defence/Devense Lahore
Rafay Rent a Car Services Company in Nishtar Colony Lahore
Rafay Rent a Car Services Company in Pak Arab Lahore
Rafay Rent a Car Services Company in Statelife Society Lahore
Rafay Rent a Car Services Company in EME Society Lahore
Rafay Rent a Car Services Company in NFC Society Lahore
Rafay Rent a Car Services Company in PCSIR Society Lahore
Rafay Rent a Car Services Company in Punjab Co Opperative Society Lahore
Rafay Rent a Car Services Company in LDA Avenue Society Lahore
Rafay Rent a Car Services Company in Tech Society Lahore
Rafay Rent a Car Services Company in ENGINEERS ARCH. H. SCHEME Lahore
Rafay Rent a Car Services Company in Fazal Elahi Colony Lahore
Rafay Rent a Car Services Company in Bagriyan Lahore
Rafay Rent a Car Services Company in Nawab Town Lahore
Rafay Rent a Car Services Company in Thokar Niaz Baig Lahore
Rafay Rent a Car Services Company in Rana Town Lahore
Rafay Rent a Car Services Company in Ghousia Colony Lahore
Rafay Rent a Car Services Company in Rehman Park Housing Scheme Lahore
Rafay Rent a Car Services Company in Johar Villas Housing Scheme Lahore